Cecilia Litte Cat
1' 29"
Original story and Screenplay- Laura Rossi
Story-board - Serena Massari, Laura Rossi
Art - Lamberto Tedaldi
Animation - Serena Massari
Backgrounds - Davide Romboli
Editing - Roberto Zaccarini
Cecilia is a curious little cat who love to explore his world...
20000 Leagues Under the Sea
14' 35"
Director - Lamberto Tedaldi and Davide Romboli
Screenplay and story-board - Laura Rossi
Animation - Maurizio Monti, Claudio Tedaldi
Editing - Roberto Zaccarini
Original Soundtrack and Dubbing - Jingle Bell
Publisher - Mediaport
Distibuted by Boroli Editore.
Drawn on the homonym novel by G. Verne, it's a 65 minutes length 3D animation movie published on 2 DC-Roms where the user can find additional contents among which a game. It's a faithful interpretation of the book in it's general story guidelines and characters but using technical and artistic peculiarity of digital animation. Characters and backgrounds looks quite photo realistic but without no pretence of replace the real shoots. The movie show the amazing adventures of Captain Nemo and the other three characters who perform astounding feats that take place aboard the submarine Nautilus. From the link above you can watch a short trailer of the movie.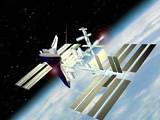 Five Zero Zero
(Flash, 1650Kb, 5')
by Lamberto Tedaldi, Davide Romboli, Claudio Tedaldi
A short 3D/Flash movie who kidding with Italian technology and, with irony, pay tribute to the great Kubrick. It received award from various part of the world.
For information regarding this movies:
contents@officinepixel.com